15 Jan

Staff Spotlight: Pauléa Eugénie Rahajatiana

As one of PIVOT's earliest recruits, Pauléa ("Léa") Eugénie Rahajatiana joined the team as an ambulance referral nurse in May of 2014, just four months after we launched work. Having spent the two years prior working as a hospital nurse with Médecins Sans Frontières (Doctors Without Borders), Léa, despite her self-proclaimed reserved nature, arrived on the scene with a proactive approach and a crystal clear commitment to doing whatever it takes to meet every patient's needs. Her compassion for each individual she cared for was tangible, as was her curiosity and desire to learn and grow.

Not long after her start with PIVOT, Léa took the position of Drug Inventory Manager. Having studied nursing in Betroka, in the south of Madagascar, Léa describes the personal experiences that ultimately influenced this particular shift in her career path:

"During my internships in the various health facilities, I witnessed the inability of most of my compatriots to cover their health costs and I myself experienced this inability. I was sick during my studies and it was difficult [for me] to buy the drugs. I asked my family to help me and they were able to do so, but I knew it was just as expensive for them as for the [rest of the] Malagasy population."

Léa names these experiences – both witnessing patients who were unable to get care for lack of funds, and experiencing a similar struggle personally – as what led her to know she wanted to play a part in the field of humanitarian healthcare delivery. When she heard that a new NGO was starting up in Ifanadiana District that aligned with her passion for the Malagasy population to be able to "access care without suffering from the financial barrier," she knew PIVOT would be the right fit for her. During her first year with PIVOT, Léa played an integral role in establishing one of our earliest and most important initiatives to ensure health for all: a reimbursement program that enables patients to access care at no cost. She names this as one of her greatest professional achievements, as it addresses the exact matter that sparked her ambition to expand her public health career in the first place.

"When there is a difficult situation, we not only look at the situation but we always look for solutions," she says, when asked which aspect of her work PIVOT makes her most proud. "PIVOT enables everyone to enjoy their right to health. The organization is there for the entire population without distinction, but above all for vulnerable people."

Today, with this steadfast commitment to a patient-centered health system still intact, Léa serves as our Deputy Director of Biomedical Services, part of a growing cadre of PIVOT's Malagasy clinical leadership. As the first person to occupy this new position, she is charged with overseeing all things related to pharmacy, supply chain, laboratory, and facility readiness (including things like equipment and the availability of electricity and water). Léa thinks of her job as one constant, central challenge: to avoid stockouts of all drugs and consumables throughout Ifanadiana District.

As PIVOT's joint endeavor to establish a model for universal health coverage (UHC) in Ifanadiana District gains more momentum through collaboration with the Ministry of Public Health, Léa's job has never been more crucial, or more complex. Supply chain is notoriously one of the most complicated components of UHC, relying on multiple stakeholders, vendors, and management systems to work in harmony to ensure hundreds of drugs and supplies are available where and when they need to be. But in practice, any number of issues could disrupt this system – from global shortages of a particular drug, to general mismanagement of stock, to weather conditions slowing deliveries along Madagascar's national route. The role not only requires responsive problem-solving skills, but also a knack for navigating partnerships effectively.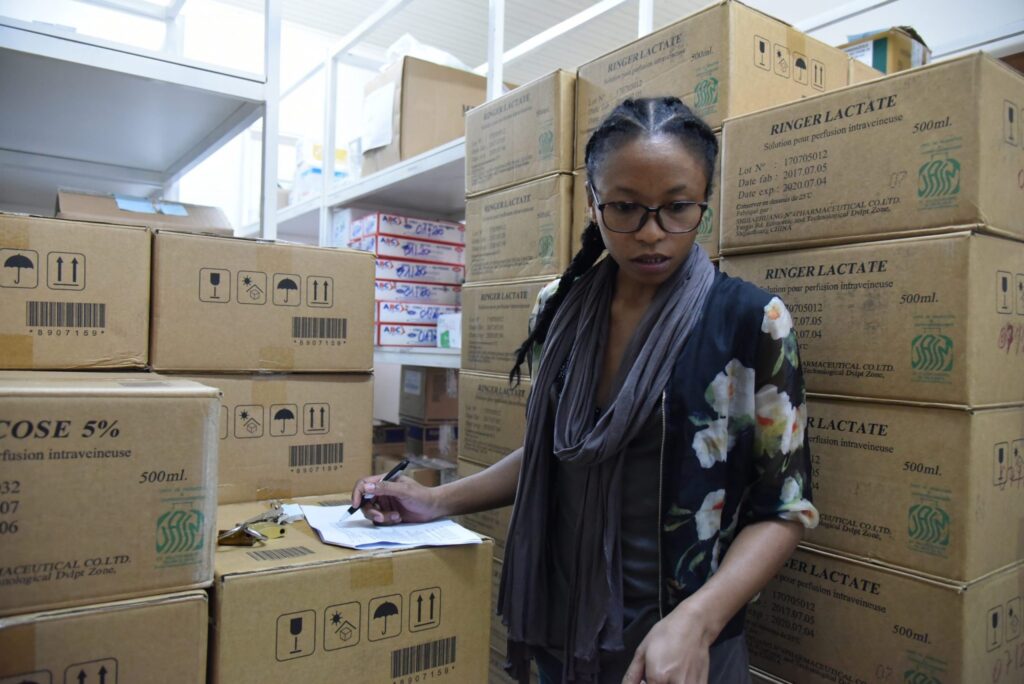 "Since building a system for the population is not just the work of one person, nor of one organization, but of many entities, […] it is often difficult to find a rallying point with all stakeholders." But ultimately, she continues, "our goal is for all patients to be well taken care of. For this, we participate in capacity-building, thinking together with stakeholders to seek solutions to problems."
During COVID, of course, many of the existing challenges Léa faces have only become more convoluted. For one, restrictions on movement have affected the supply chain more significantly in Madagascar – where there are few paved national routes – than in many other countries. But as a leader who wholeheartedly embodies the PIVOT values of humility and the pursuit of learning, she has forged ahead fearlessly, leaning into opportunities for support and growth. Thanks to the generosity of the Gould Family Foundation and collaboration with Pharmaciens Sans Frontières (Pharmacists Without Borders), Léa's learning journey continues on with a biomedical apprenticeship and pharmaceutical management mentorship.
Looking back, Léa says that, when she first joined PIVOT, she was pleasantly surprised by the demeanor of its leaders, and draws inspiration from their approach still today. "Often, we have a stereotypical image of a leader of an organization, but I noticed that at PIVOT the founders were very humble, and that amazed me. When I came here, the organization was still very young, and we were asked for our opinions on how to improve the work together. […] They listened to what we had to say."
As we look down the road toward expansion into more districts in the years to come, Léa carries this memory with her, and hopes to emulate the kind of leadership she has seen work effectively throughout her six years at PIVOT. Dr. Alishya Mayfield, our Chief Medical Officer, maintains much faith in her ability to do so: "Léa's focus, dedication, and unwavering commitment to her work have always impressed me," she says. "She approaches each new challenge with quiet strength and determination, and she is an invaluable asset on our team."
Léa's expertise as both a healthcare provider and a manager will play a crucial role in the process of scaling our model for UHC and, once again, greater complexity lies ahead for her role. But her humble outlook remains that "life is always a learning process. You can't move forward in life if you don't cultivate yourself."