23 Mar

Staff Spotlight: Jeannot Andriamanantena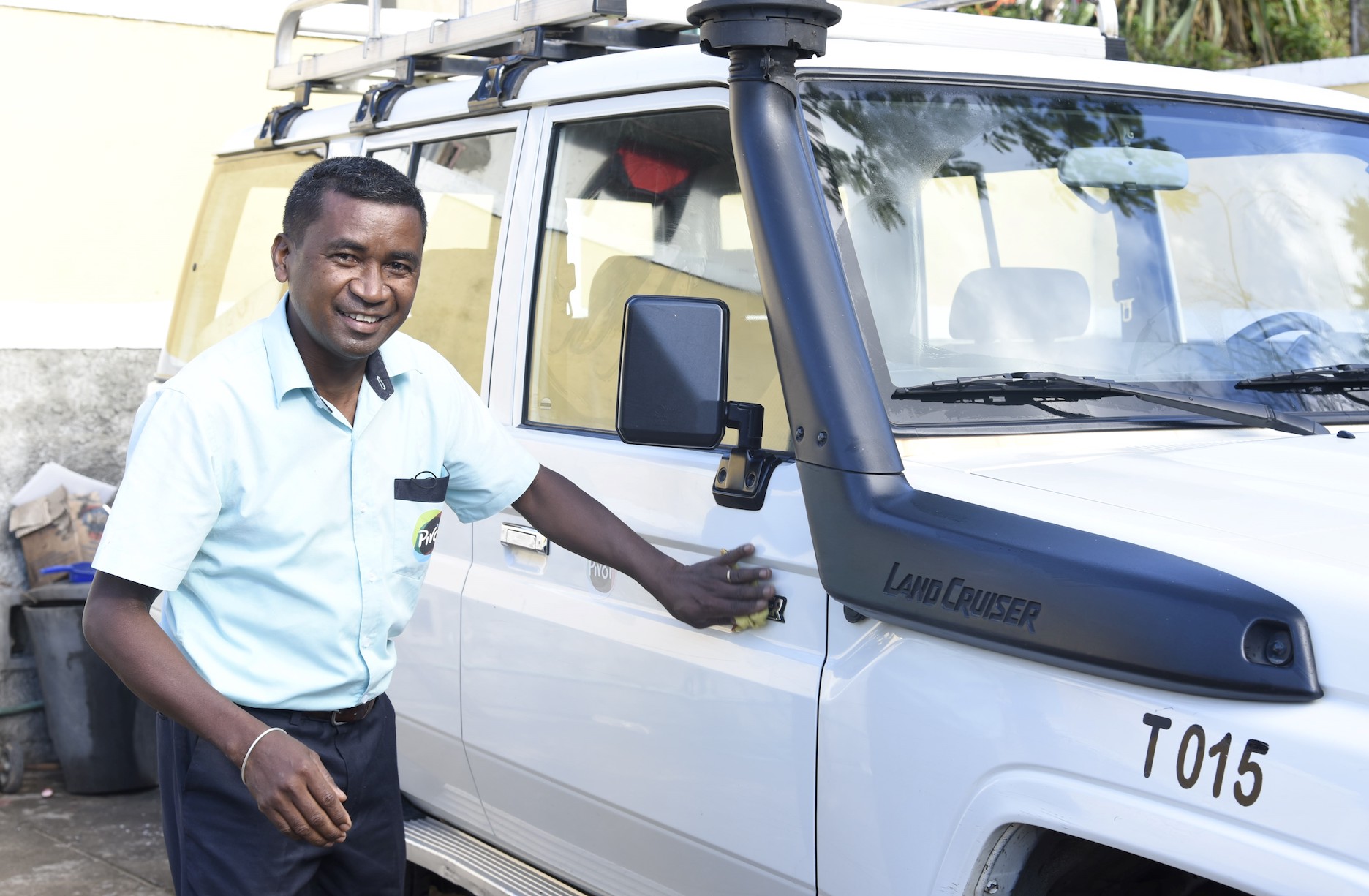 "In a nutshell: being a driver [with Pivot] means always being on time," says Jeannot Andriamanantena. This, of course, is a task much more easily said than done in the context of a busy healthcare NGO operating across a rural district where geography is one of the greatest barriers to accessing care. And that's Jeannot's favorite thing about his job: "accomplishing my mission on schedule […] makes me proud; to drive all of the staff on my daily roster to where they need to be, without delays or problems."
But being a Pivot driver, as Jeannot knows better than anyone, means many things in addition to punctuality. It means having a front row seat to not only Pivot's goings-on, but also having a finger on the pulse of the population who you'll inevitably interact with in that day's movements. It often means serving as a host and tour guide one minute, and a mechanic the next. Fundamentally, it means being flexible, responsive, and creative. These qualities are key for navigating the challenges that come with traversing the roads of Ifanadiana District every day – for all those times you get stuck in the mud en route to a health center and have no cell service to call for back-up, and other such common occurrences.
Since 2016, Jeannot has been doing all of that and more as a driver on Pivot's movement team.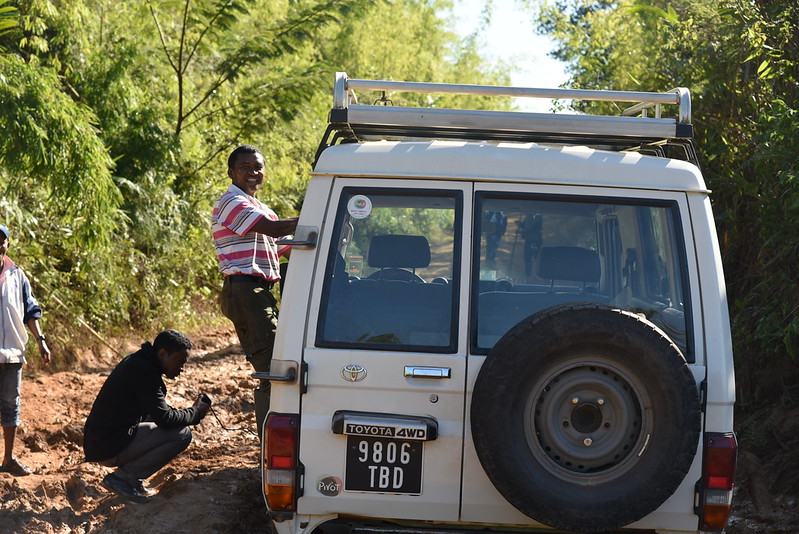 Jeannot remains in good spirits amid efforts to get a Pivot vehicle unstuck from muddy terrain.
For many years prior to joining Pivot, Jeannot worked as an educator, mostly teaching English at local Malagasy schools. Before that, he received training in environmental education and conservation in Kenya, and subsequently held a programmatic role at Friends of Madagascar, an NGO which focuses on those same issues in Ranomafana.
Through his wealth of experience, Jeannot has valuable perspective to impart about the role Pivot plays in Madagascar, and ideas for the organization about everything from efficient transport to expansion of services – a true humanitarian. Jeannot innately understands what the late Dr. Paul Farmer, who passed away in late February, taught us – that every single member of our organization has a critical contribution to make toward advancing our mission.
"Whenever I suggest promotion (which inevitably happens at the end of every long drive together)," says Executive Director Tara Loyd, "he always declines; he says being a driver is right where he wants to be. The contribution is clear and the stress stays confined to the day's job."
When asked to provide a quote for this piece, Executive Director Tara Loyd reached for several photos from many long drives spent together. "I trust Jeannot to the end of the earth and back – with our organizational mission, with my children, and with truly showing up for everyone we exist to serve as an organization." Remembering the many 11-hour drives they've made together between Ranomafana and Antananarivo, Tara recalls one trip in which Jeannot insisted on stopping for a break every time her 6-month-old daughter started to cry. "His patience is genuine and his accompaniment is such a joy. We all look forward to seeing him each visit and sharing adventures."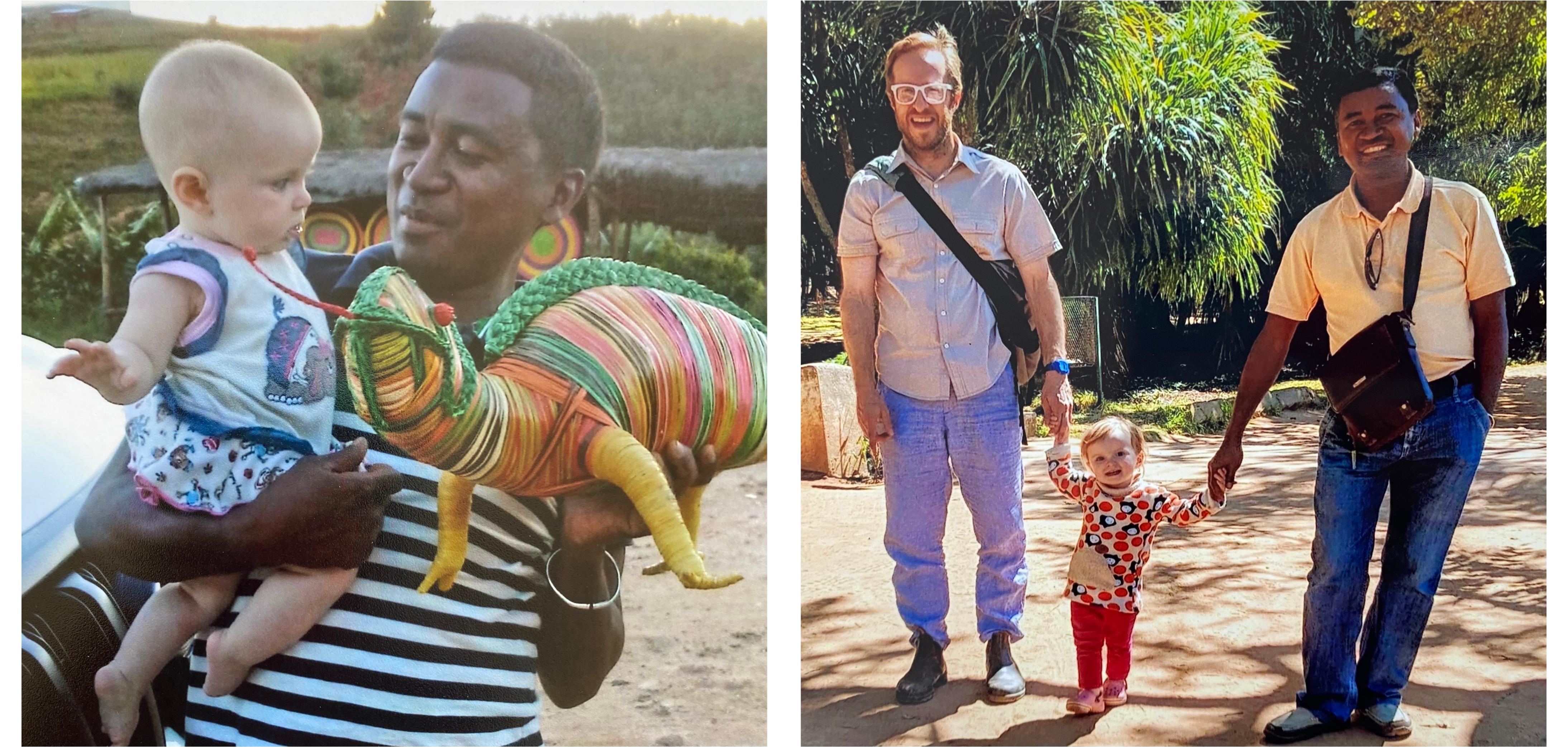 Jeannot during travels with Tara Loyd and her family (husband James and daughter Zoe).
Over the course of his six years with Pivot, Jeannot has crossed paths with every cadre of person who might intersect with our work, from patients and practitioners to government officials and international funders. One of the things that makes Jeannot so uniquely good at his job is his empathic nature. When asked which of Pivot's organizational values he holds most dear, he names humility, because "when faced with a person, you always have to put yourself in their place in order to better help them." And, indeed, he is uniquely gifted when it comes to making genuine human connections.
His personal experience throughout the pandemic has only deepened those qualities in Jeannot. "As a vulnerable person," he said, "COVID scared me a lot in terms of stress and health." But he was among the 93% of our staff who volunteered to be vaccinated first against COVID-19, setting an example for fellow colleagues and community members alike.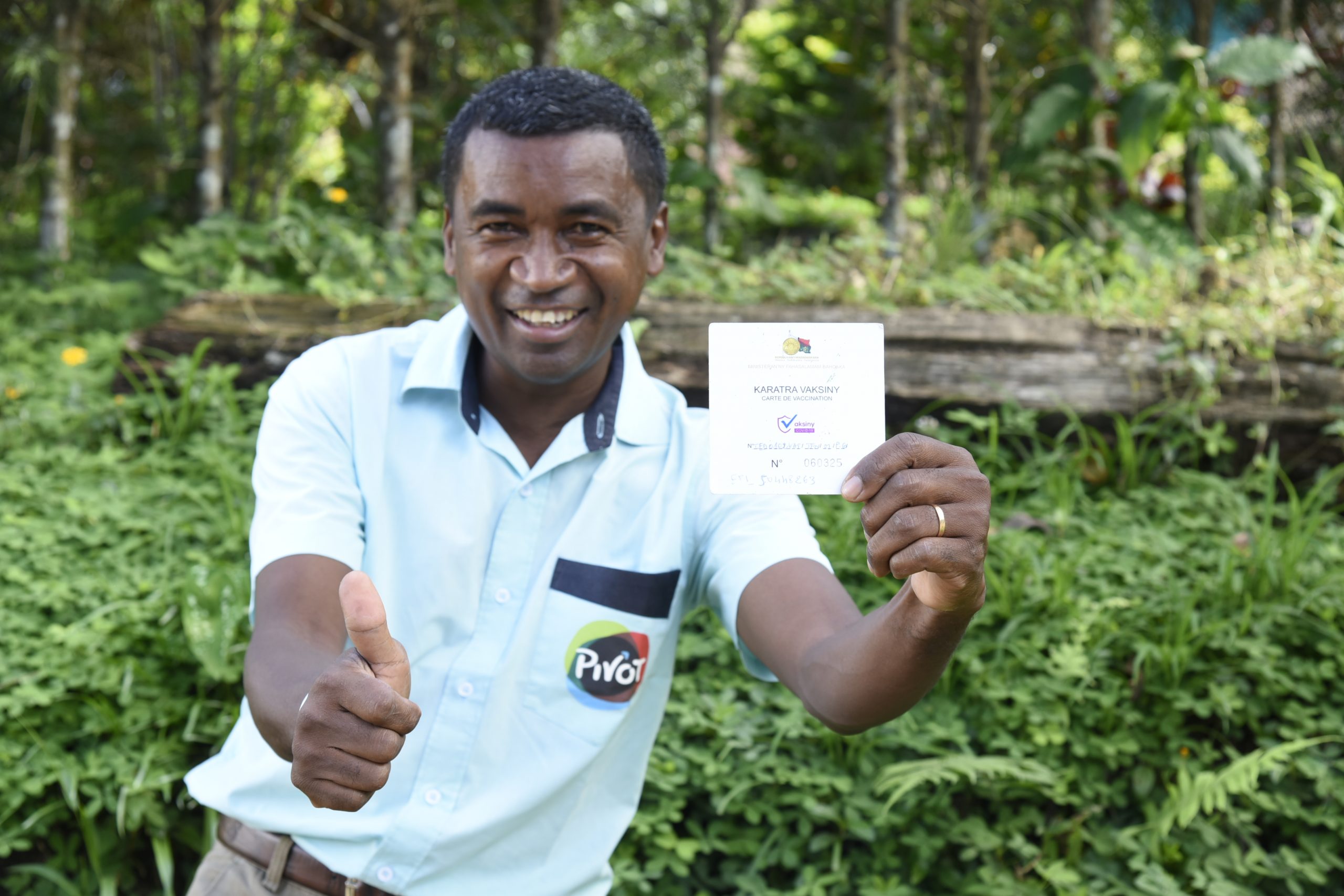 Jeannot flashes his COVID-19 vaccination card.
Despite the job of a driver being "just as busy and overwhelming" as previous jobs on some days, Jeannot says it makes him "proud and happy" to work with Pivot. His heart for humanitarian work is consistent with his belief in the importance of "social peace" and stability; he regards Pivot as an agent of such work. "Pivot is an organization that supports the community [both] medically and socially," he says, emphasizing the latter; he names social and psychological support as the two things that he believes make Pivot's health system strengthening work uniquely impactful in Ifanadiana District.
Jeannot takes his role within the Pivot community seriously, not only as part of the logistical team, but also as an engaged colleague and friend. "Since working at Pivot, I have been given special names like 'Uncle Jeannot' or […] 'big brother.' I guess it's because everyone feels comfortable with me and we're always happy to be together." National Director Laura Cordier confirms, "It's a pleasure to work with Jeannot. He is dedicated to his work and always ready to address any problems, even if it falls outside of his daily tasks."
Beyond being satisfied with his professional life, Jeannot loves the life he has built in Ranomafana with his wife Antonine and their four children. Outside of work, he is a huge fan of "DIY" projects, and is presently occupied with expanding his own home to serve as a rentable apartment to locals and/or tourists. As an added bonus for anyone who gets to be his houseguest: he is a self-proclaimed amateur comedian, and has an infectious laugh to match.
Jeannot's favorite phrase is a Malagasy proverb that speaks perfectly to the warmth he brings to every relationship: "Ny fanahy no maha olona," which means "Nothing is more important than the soul."