20 May

Board Steering Committee Makes Connections in the US

"Over the past two years, a major focus of my leadership trajectory has been investing in Pivot's Malagasy leadership at the senior management and board levels," says Pivot Executive Director Tara Loyd. "It means a lot to put faces to names, build direct relationships, and strengthen ties to one another as a Steering Committee. In order to help them govern the organization as a group, with deep knowledge of Pivot's roots and international partners, we invested in bringing this delegation of leaders to Boston and New York. Their combination of expertise and lived experience makes them exactly who we need to guide Pivot's future."

In May 2022, the Pivot board's Steering Committee (along with two researchers on the Pivot Science team) made their first group trip to the US with the goals of convening with the full Board of Directors, attending our first in-person fundraising event since the start of the pandemic, and deepening their connections with institutional partners as well as our community of supporters. Despite COVID interrupting some of these plans (leading to the cancellation of both board meeting and fundraiser), members of Pivot's US-based staff, board, and donor community pitched in to host what turned out to be a meaningful trip for our Steering Committee. Below are a selection of photographs and some personal reflections to illustrate their experience.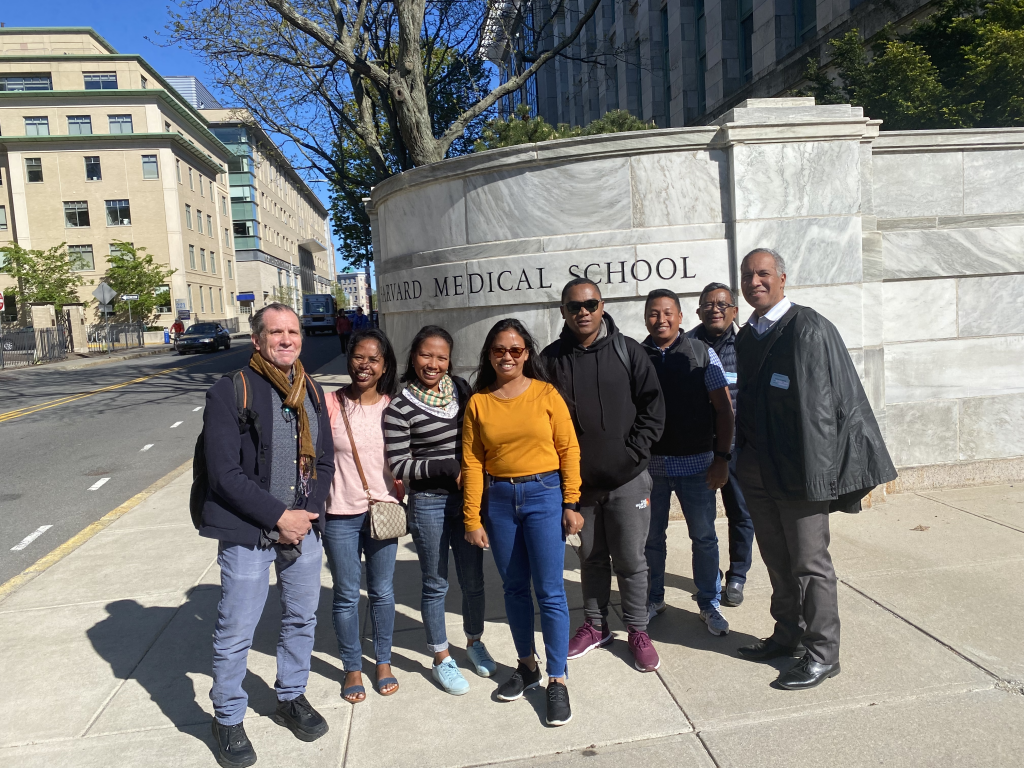 Pivot Co-Founder and Senior Clinical Advisor Dr. Michael Rich (far left) served as host to the delegation for a large portion of their visit, including time spent visiting and learning more about Harvard Medical School (HMS), one of Pivot's founding institutional partners.
From left to right after Michael: Felana Ihantamalala (Postdoctoral Researcher for Pivot through HMS), Faramalala Rabemananjara (Board Member & former Manager of Social Work at Pivot), Ando Randrianandrasana (former Pivot nurse), Luc Rakotonirina (Associate Medical Director), Dr. Tahiry Raveloson (Board Member & former Manager of Hospital Programs at Pivot), Benjamin Andriamihaja (founding Board Member & Senior Technical Advisor), and Dr. Luc Samison (Board Member & Chair of the Steering Committee).
On their first full day in Boston, the group attended thesis defense presentations at the Harvard School of Public Health. Fara reflected that, "the presentations [about other health systems] reminded me of Madagascar, where the health system is lacking so much. The kind of research presented is [important because] it helps people to understand the [reality of healthcare] in rural areas around the world and demonstrates how global health organizations can bring significant support to the health system in countries like Madagascar."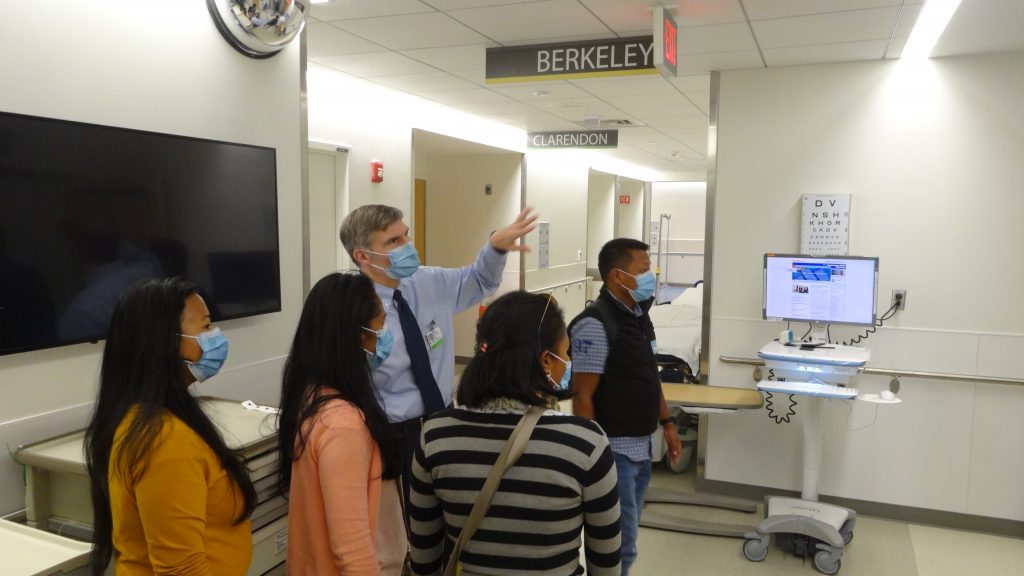 Dr. Joe Rhatigan, Associate Medical Professor at HMS and the associate chief of the Division of Global Health Equity at Brigham & Women's Hospital, led the group on a tour of BWH, which turned out to be a collective highlight of the trip. "The hospital is so big and organized – all systematized – and busy!" Fara reflected, "The nurses we saw were so available and kind to their patients. The system is so different [from Madagascar]; it gave me a new visual of how health systems look on the other side of the world."
Luc Samison shared his observations of the "huge difference" between US and Malagasy hospitals as well: "Knowing […] that the GDP of this hospital is $15 billion and the GDP of Madagascar is $14 billion, we can understand the problem of equity in health all around the world."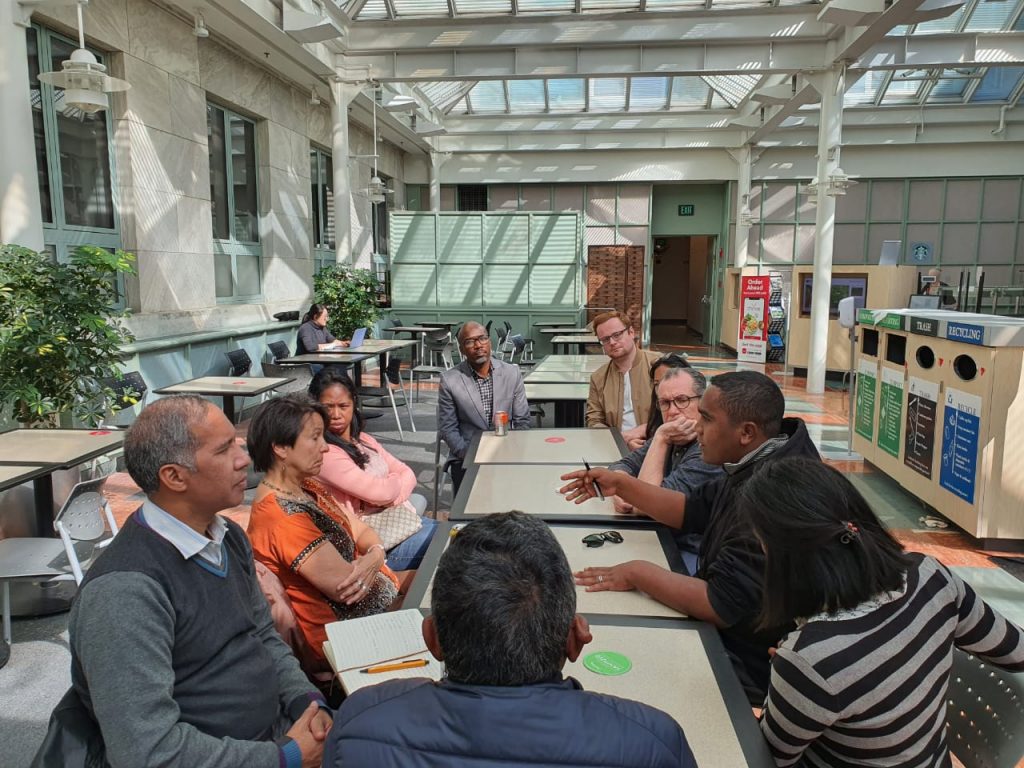 The team also met with key clinical leaders of Partners In Health (PIH), another founding institutional partner. Chief Medical Officer Dr. Joia Mukherjee and Deputy Chief Medical Officer Dr. Anatole Manzi joined them in conversation about global health delivery education. Fara found inspiration in Joia's approach to integrating academics with implementation by "helping implementers bring out the realities on the ground to academics, and making sure that academic [research] is in turn being used on the ground."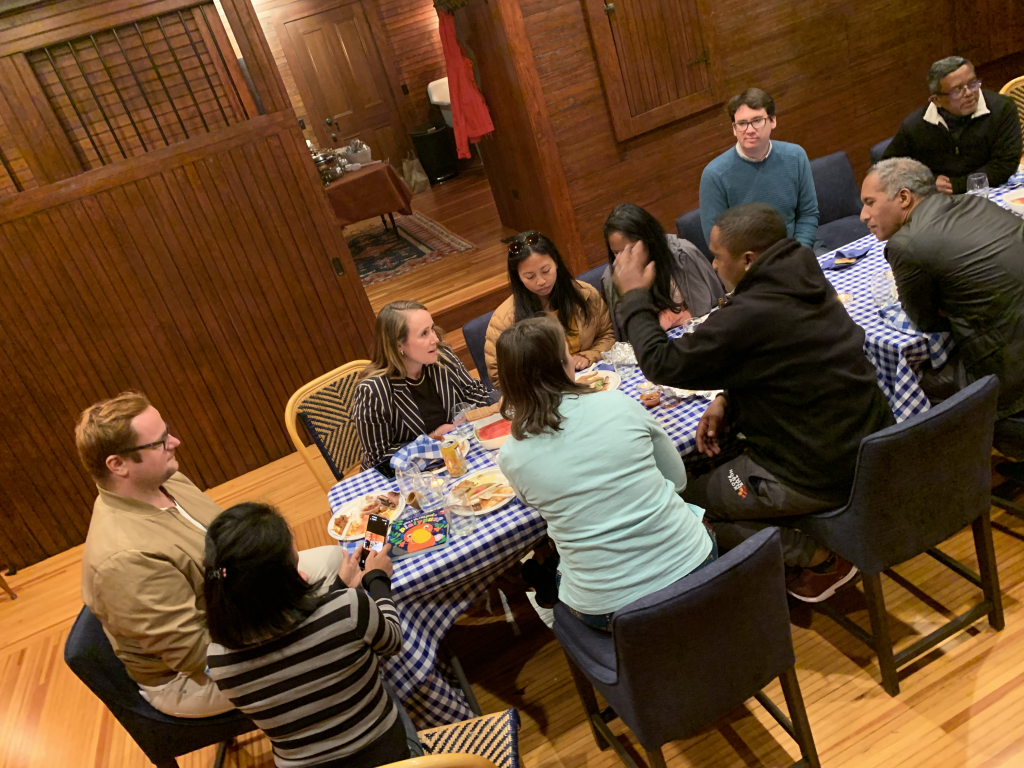 The two-week visit was full of group meals, but this one – hosted by Pivot Board Member Bob Hower – marked a special opportunity for the visiting board members and US-based team to spend time with key funders. Here, Luc Rakotonirina presented Caroline Easley with a traditional Malagasy art piece as a thank-you to the Wagner Foundation for their years of support for Pivot's community health work.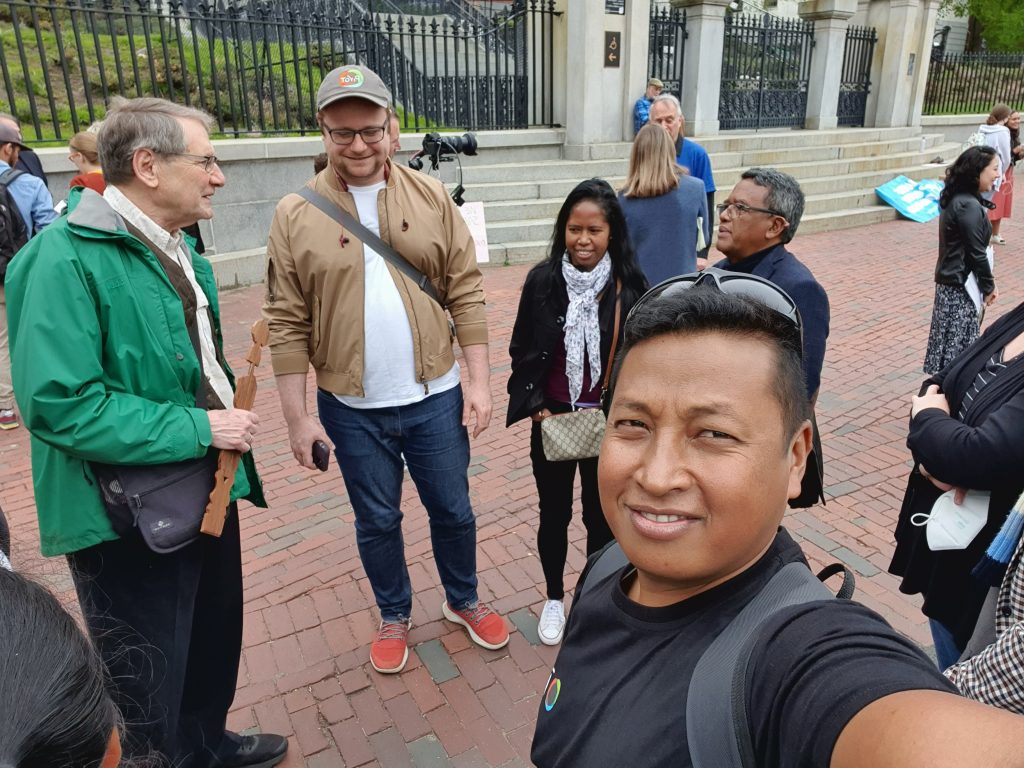 The events canceled by COVID made space for opportunities to connect with Pivot's US supporters in other unexpected ways. Here, the group took up an invitation from long-time Pivot supporter Peter Barrer to meet up at a climate rally at the Massachusetts State House in Boston. This was an especially meaningful connection for Benjamin (pictured speaking in the back on the far right), whose career has centered around conservation in Madagascar.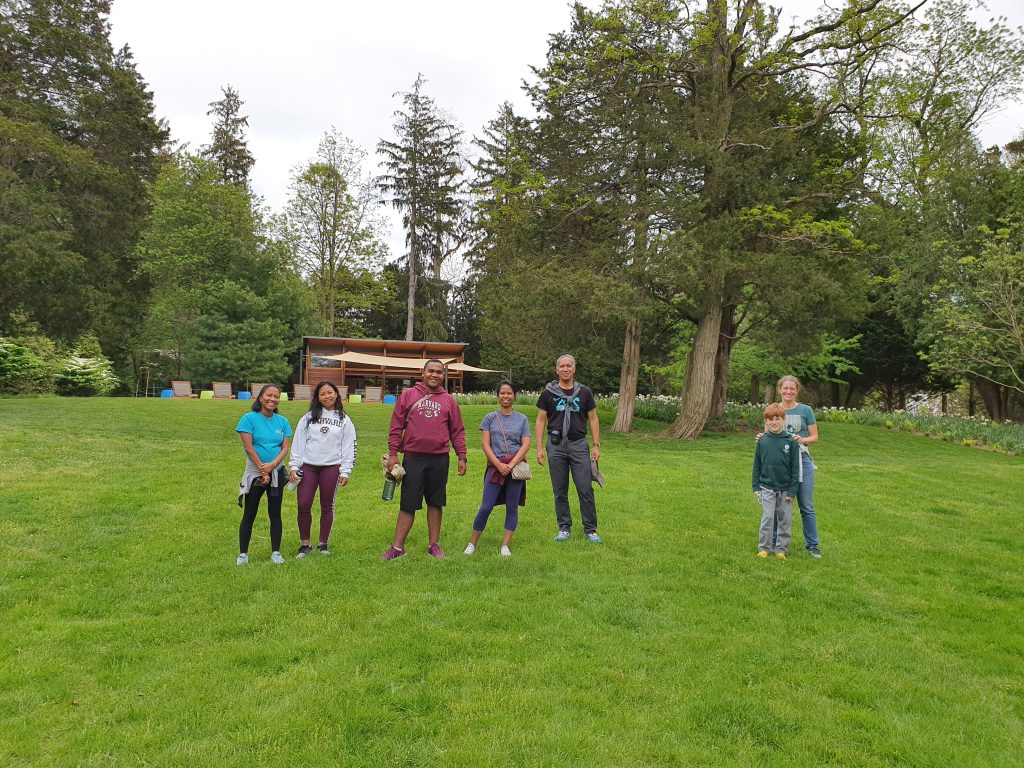 In place of the fundraiser that was supposed to be hosted by Pivot co-founders Jim and Robin Herrnstein, whose family was among those affected by COVID during this time, the group was able to spend some socially-distanced quality time with them upon their arrival in New York.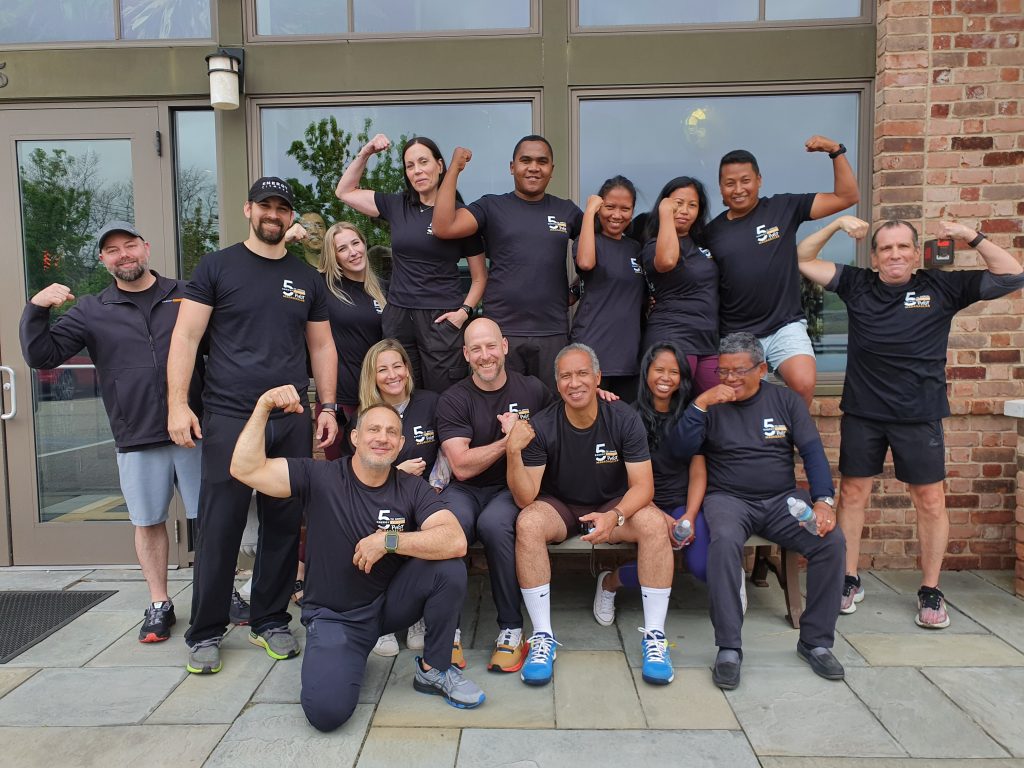 With a fresh round of negative COVID tests in hand, the group made a visit to Energy Fitness, a Long Island-based partner to Pivot since 2016, who annually dedicates a week to rallying their gym members around supporting some aspect of our work. This year, in alignment with our imminent expansion, the theme of Pivot x Energy Week 2022 was "going the distance." Participants both raised money and tracked their mileage over the course of the week, surpassing their collective goal to cover 8,700 miles (the distance between their headquarters in Saint James, NY and Pivot's headquarters in Ranomafana)! The Pivot team joined in to log some miles as the week came to a close, with the Energy crew coaching them through circuits of group endurance exercises.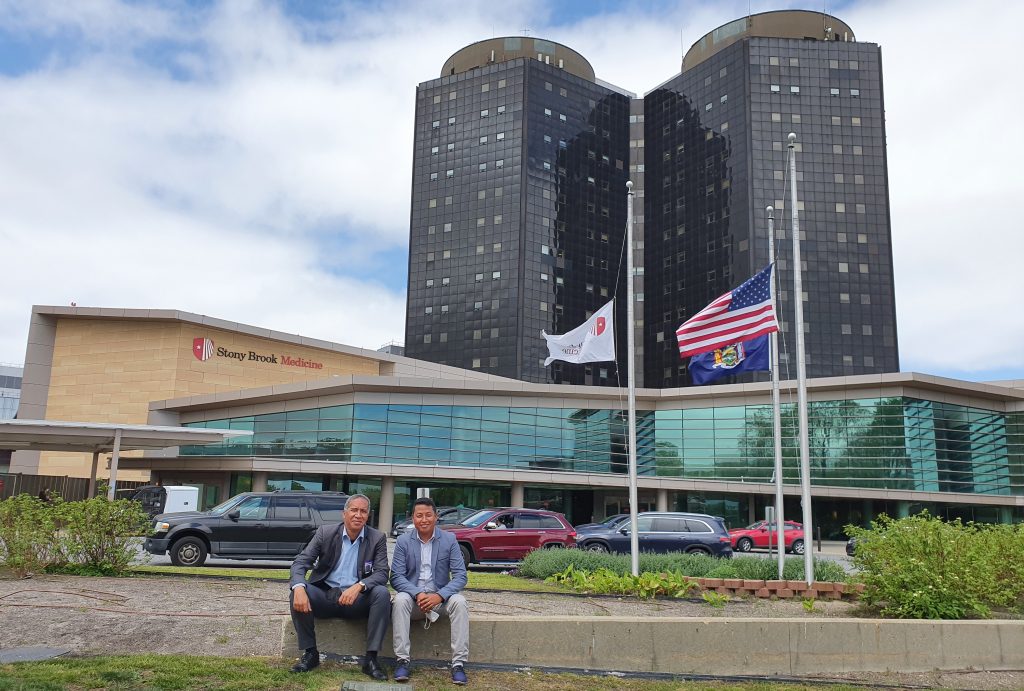 Stony Brook University is the US-based affiliate to conservation research station Centre ValBio, which is one of Pivot's key local partners in Ranomafana, led by primatologist Pat Wright, another Pivot Board Member. The clinicians among the group took the opportunity to tour the university's hospital during their time on Long Island, this time with a focus on the emergency department and intensive care unit.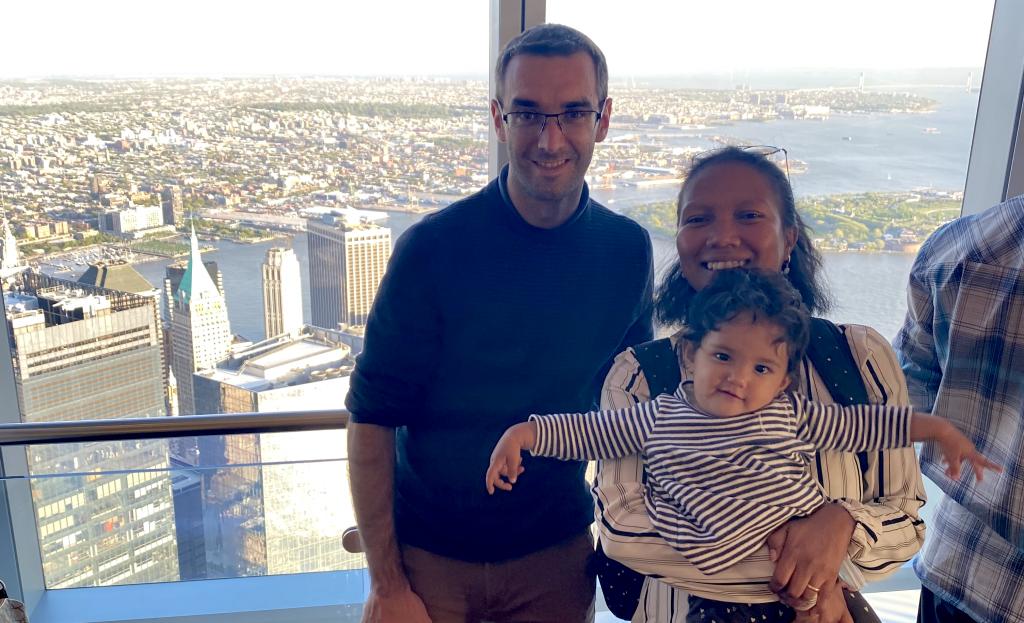 "With the knowledge that women constitute 75% of the global health workforce but only 25% at the leadership level," explains ED Tara Loyd, "I have made a point to create space for the women leaders who have kids to bring them along, into the work, rather than have to manage their care on the side."
Fara – who, as mentioned above, is not only a current Board Member but also a former Pivot social worker – brought her daughter Inés with her on the trip. Here, during a sightseeing break between appointments in NYC, they are joined by Fara's husband, Andres Garchitorena (Associate Director of Pivot Science) who was also part of the visiting group as he was slated to present his work during the science fair-style fundraiser (canceled due to COVID) and connect with academic peers.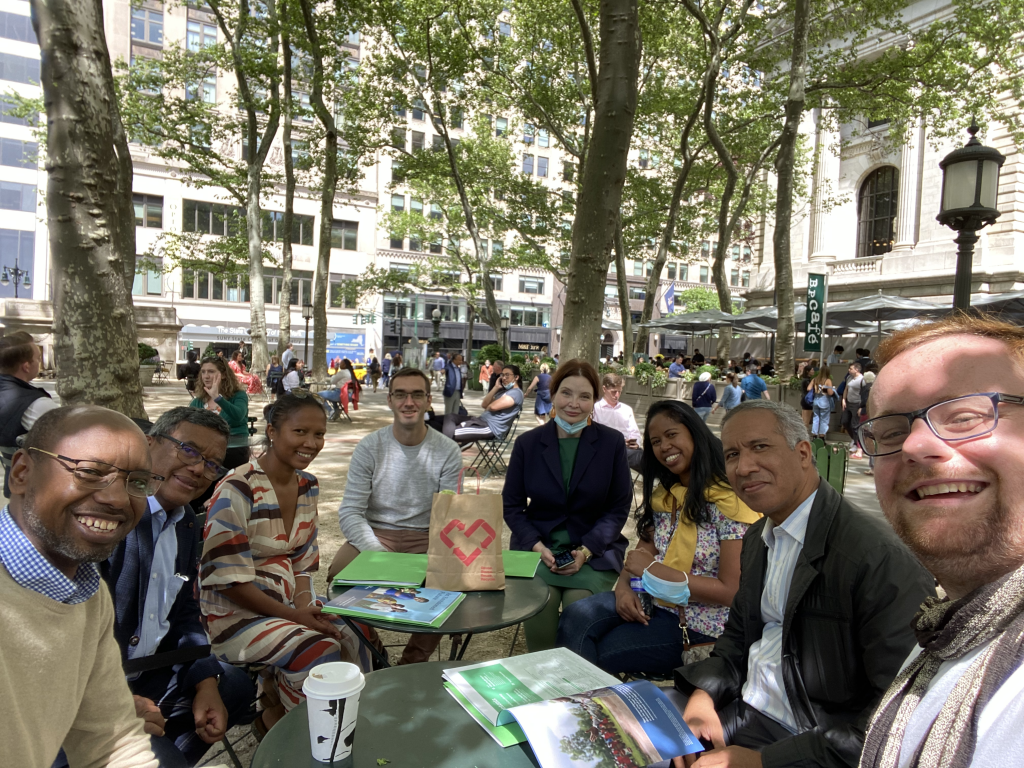 While in NYC, the group met with leaders of peer organization Village Health Works, CEO & founder Deo Niyizonkiza (far left) and Chief of Staff Cynthia Riaz (center), to learn more about their work in Burundi, exchange ideas, and cultivate peer-to-peer solidarity.
"Deo's experience of life is so inspiring," Fara remarked after hearing Deo share his story about fleeing Burundi during the country's civil war in the 1990s and finding his way to a career in global health. "Village Health Works is having an impact and I think we can learn from them how to encourage more community participation in Pivot's work."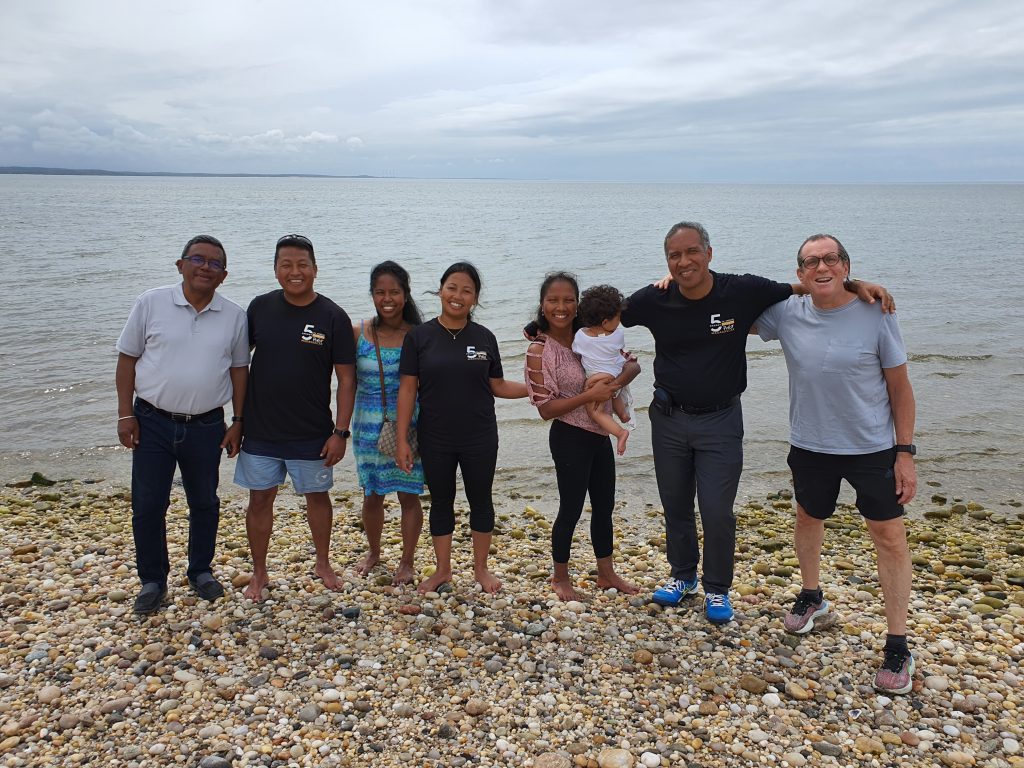 Over the past year, the Steering Committee that has taken shape has invested significant time and energy to deepen their understanding of Pivot's big picture so that they can directly support and effectively govern the work on the ground, including the upcoming plans to replicate in additional districts. We were honored by the opportunity to host the Steering Committee along with visiting staff leaders, introduce them to the components of Pivot that operate in the US, and strengthen their connections across Pivot's network. 
As if to sum up our collective perspective on these inspiring leaders, Luc Samison made a point to share a quote by Margaret Mead that, displayed on the wall at BWH, left an impression on him: "Never doubt that a small group of committed people can change the world. Indeed, it is the only thing that ever has."